Chim-Pro Flex Chimney Lining Systems
Stop your chimney from deteriorating, keep your family safe
Masonry chimneys, old or new, straight or offset, residential or commercial will benefit from the Chim-Pro Flex Lining System.   It has been engineered to be simple, versatile and effective with no compromise in quality.
You benefit from added safety for your home and family, more efficient operation of your appliances and added value to your home.  These appliances include fireplaces, wood stoves, furnaces, and hot water tank flues.
The Chim-Pro Flex System is quality-constructed of superior grade stainless steel which has proven itself in thousands of chimneys.   It is the best stainless steel to take the constant punishment from your appliance or fireplace, no matter what fuel you burn.
The construction of Chim-Pro Flex allows for the constant expansion and contraction that a liner experiences and provides maximum flexibility when lining offsets in chimney.  The strong seam has been designed to assure a gas and water tight seal for your protection.
The Chim-Pro Flex System is a complete chimney relining technique and should be purchased with confidence.  The Chim-Pro Flex Lining System has been tested and Listed by Underwriters Laboratories to the UL 1777 Standard for chimney liners at zero-clearance to combustibles.  The Chim-Pro Flex Lining System is also Listed for Canada to the CAN/ulc S635M Standard for existing masonry chimneys. By using either Chim-Pro™ Wrap ceramic blanket insulation or our Chim-Mix™ poured insulation you can have combustibles in direct contact with the exterior of the chimney and still have adequate protection.  
These insulating materials are also beneficial in reducing condensation. We back our confidence in the Chim-Pro Flex System with a manufacturer's lifetime warranty on materials. 
Absolute Chimney's Chem-Pro Flex Lining System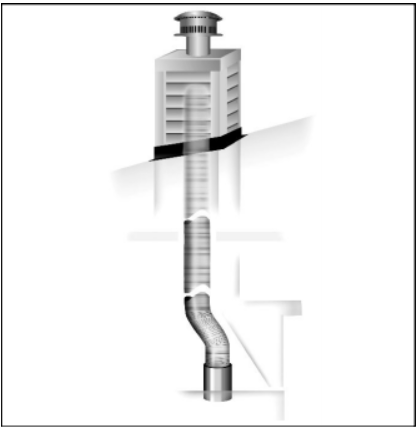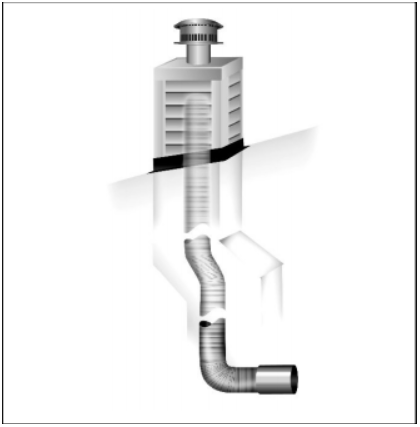 THE CHIMNEY LINER WITH SUPERIOR STRENGTH AND FLEXIBILITY
FLEXI-LINER is an effective chimney liner for downsizing masonry chimneys which serve gas fired appliances.
Why is a chimney liner necessary?
Gas fired heating appliances produce low temperature, high moisture content flue gas which collect as acidic condensate on the inside of oversized, cold masonry chimneys.  It is this condensate that is the primary cause of masonry chimney deterioration which creates a serious health hazard as well as costly home repairs.
Stop chimney deterioration today by installing a lightweight, properly sized, metal chimney liner will help create efficient, condensate free venting.  (Insulating the liner is recommended and will further enhance operation of the venting system.)
FLEXI-LINER The "Condensate Eliminator"
STOP condensation… STOP chimney deterioration
Underwriters (ULC & UL) listed
Tough two ply aluminum construction (Type 3003)
Corrosion resistant
Unique, gas tight, patented seam
Ultimate flexibility handles the most challenging chimneys
All required components in one kit
Successfully applied since 1980
Available in sizes from 3" through 12"
Call our chimney experts today at 412-751-5525!