We are Pittsburgh's Choice for Fireplace Gas Log's
In the chill of the season, family and friends gather around the comfort of the fireplace, making your home aglow with life.
There's nothing quite like savoring a steaming cup of coffee, or a robust glass of wine in front of a fireplace complete with the beautiful glow created by a Real FyreⓇ gas log set.
Available in more than 40 authentic styles, all Real FyreⓇ gas log sets are handcrafted, hand painted, and look stunningly realistic.  From active natural flames down to a glowing bed of lifelike embers, the Real FyreⓇ Vented Collection is designed to complement your fireplace.  Real FyreⓇ gas logs replicate the beauty of a wood fire with the convenience and cleanliness of gas.
If a more contemporary look is what you seek, Real FyreⓇ Glass, Gems and Diamond Nuggets can turn your hearth into the pinnacle of modern style.
With companion accessories such as safety controls, pine cones, acorns, wood chips, and many other items, you can further enhance the beauty and practicality of your hearth.  Real FyreⓇ Gas Logs are certified/listed to national standards, and come with the best warranty in the industry.
Real FyreⓇ has been providing comfort, convenience and enjoyment for homes for over 65 years.  Experience the Vented Collection from Real FyreⓇ and enjoy the splendor and warmth of a wood fire while dramatically reducing air pollutants.  Burning Real FyreⓇ gas logs, instead of wood, preserves precious forest resources for generations to come. Experience Real FyreⓇ …
… What a Fire is Meant To Be™
RH Peterson Real Fyre gas log sets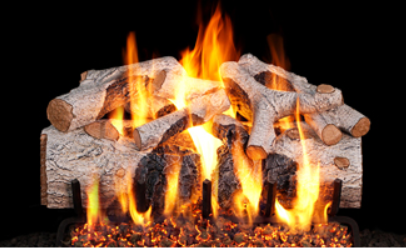 Charred Series – Charred Mountain Birch
Like an artist who can bring the beauty of nature to life, Real FyreⓇ artisans work from real wood samples to meticulously recreate the intricate bark detail and natural coloration of deeply charred wood.  The burned-thru centers of the resulting log sets–from the Charred American Oak to the Charred Majestic Oak–reveal the brilliance and fiery heart of a robust, long-burning fire.
The Charred Series from Real FyreⓇ experience the pinnacle of realism…
…so real you can almost smell the wood.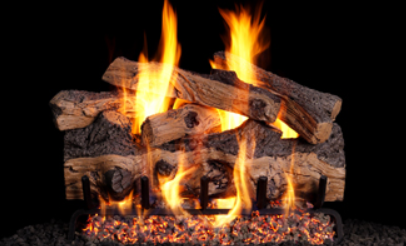 Designer Series – Knarled Split Oak
These hand painted originals, modeled from real wood samples, add a touch of elegance to your home. The quality and design of the Real FyreⓇ Designer Series capture the realism, texture and subtle nuance of nature's handiwork.
Experience the Designer Series from Real FyreⓇ and enjoy what's worth remembering.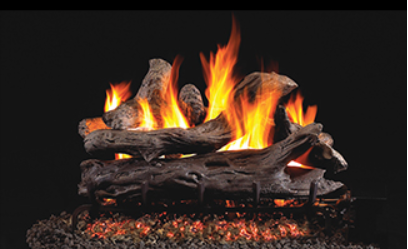 Classic Series – Coastal Driftwood
Since originating the gas log set over 65 years ago, Real FyreⓇ has grown to offer the broadest selection of log sets to enhance the home, and the most innovative technologies to safeguard the environment. Through it all, the Classic Series has withstood the test of time with traditional favorites, like Golden Oak, which will always be in style.
Experience the Classic Series from Real FyreⓇ and experience what's new again.
Specialty Series – Charred Majestic Oak
Unique in their design and purpose, the specialty sets are crafted to meet the needs of specific fireplace types. Now, whatever the experience you hope to spark, Real FyreⓇ can make it a reality. Experience a Specialty Set from Real FyreⓇ and experience what's special.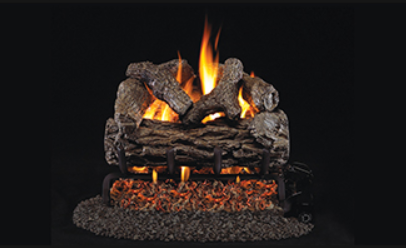 Specialty Series – Small Sets
For those more intimate gatherings around a smaller hearth, we offer the Small Sets Series. Ideal for smaller wood-burning fireplaces or where reduced gas usage is desirable. These carefully crafted log sets are anything but small when it comes to the rich ambiance they will bring into your home.
Experience the Small Sets Series from Real FyreⓇ. Only 9 ½" deep, and 12" rear width, these sets provide a large radiant flame with just 39,000 BTU's.
Other choices are available.
Call our experts today at 412-751-5525!