We offer only the best quality wood stoves on the market today.
Why Absolutely Chimney offers Napoleon Wood Burning Stoves
No other hearth manufacturer in North America has perfected wood burning technology to the level that NapoleonⓇ has… perfecting true craftsmanship to last a lifetime.  Years of research, strict quality testing and advanced wood burning technology have surpassed critical standards, providing you with the cleanest, most efficient wood burning products.  NapoleonⓇ products are backed by the President's Limited Lifetime Warranty, guaranteed to give you the solid performance you deserve.

Best Burn Times In The Industry… NapoleonⓇ wood burning products offer state-of-the-art technology, unlike any others, completely utilizing the firebox chamber with a fully lined refractory system.  The kiln-like firebox chamber allows for an amazing long day or overnight burn, the single lever combustion control allows for simple regulation of the burn rate.

No Power? No Problem!… We all feel vulnerable when there is a power outage, but with a NapoleonⓇ wood burning fireplace, stove or insert, you can rely on comfort and heat when you need it most.  Rest assured, you can enjoy a cozy, warm atmosphere when the power is out!

Warming Homes, Not The Environment… NapoleonⓇ products are designed not only for outstanding heating efficiencies but NapoleonⓇ also takes great pride in their commitment to provide environmentally friendly wood burning products.  Napoleon's wood burning technology exceeds EPA (Environmental Protection Agency) standards burning very clean with low emissions, helping to make a difference in keeping our environment safe.

Authorized Dealer Support Network… With over 3,000 reputable authorized dealers across North America, NapoleonⓇ works hard to provide professional, consistent training and technical education to support our dedicated team of professionals.
Outstanding Reliable Warranty… Each and every NapoleonⓇ wood burning stove and insert is designed and manufactured to strict quality testing standards and backed by the President's Limited Lifetime Warranty, guaranteed to give you the solid performance you deserve.  NapoleonⓇ is registered under the world recognized ISO 9001-2008 quality system.
Economical 6″ flue on even the largest models, assures you of efficiency and cost saving installations
Primary "bottom air feed" assists in cold start ups and to revive a small, dying fire
Secondary air tube insulated for complete combustion
Wrap around side shields add a delicate balance of elegance and functional practicality helping to disperse heat evenly and reduce clearances to combustibles
Large viewing area through an elegantly arched cast iron door
High heat ceramic glass provides a safe, unobstructed view of the fire
Effective airwash in combination with high temperatures keeps the viewing glass clean
Fully refractory lined firebox, similar to a kiln maintains the interior temperatures necessary to achieve low emissions
Ash dump with self-closing door is readily accessible (pedestal & cast iron models)
Large "king size" functional ash pan (600 cubic inch capacity) with two carrying handles lets you conveniently dispose of ashes (standard with pedestal and optional for leg models)
Folding ash pan lid allows for clean, no-mess ash removal (pedestal models)
Cool room air is circulated around the firebox, heated and returned to the room
The single lever burn control regulates primary and secondary air establishing a perfect mix and a clean burn
Napoleon Wood Burners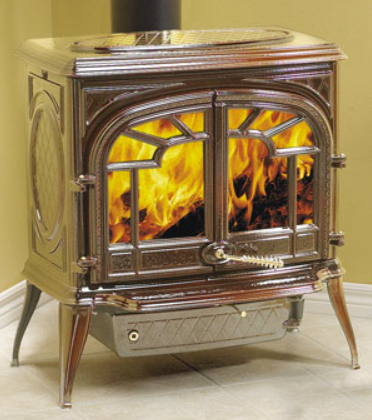 Cast Iron Stove (1600c) – Heats up to 1,500 sq. ft
Fine, solid European cast iron design and Napoleon's advanced wood burning technology transform small amounts of wood into large amounts of cozy heat, easily sustaining overnight burns.  The EPA certified 1600C is available in porcelain enamel Majolica brown or painted black finishes. The 1600C features elegantly arched Early American double doors that open fully, almost flush to the sides with concealed hinges for easy loading and is convertible from top to rear vent for installation flexibility.  A beautiful investment for any room!
Up to 52,000 BTU's       27″w x 28″h x 24″d       EPA Certified
Cast Iron Stove (1400c & 1100c) – Heats up to 2,000 sq. ft
Napoleon's cast iron stoves feature advanced wood burning technology that provides you with the cleanest, most efficient heating experience.  They also feature a design that boasts a European style, a decorative door with ceramic glass and a large view of the fire. Built with confidence to last with fully welded seams and using the highest quality materials; all covered under NapoleonⓇ President's Limited Lifetime Warranty.  The 1100C & 1400C are the perfect wood burning stoves for those wanting a reliable heating source year after year.
Up to 70,000 BTU's       28"w x 28 ½"h x 27"d      EPA Certified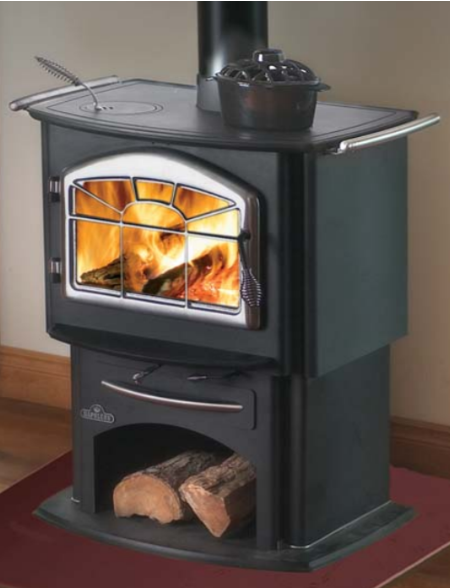 Wood Gourmet (1150p) – Heats up to 1,600 sq. ft
This unique, and functional, EPA certified wood burning stove produces lots of warm, comfortable heat with the added benefit of a reliable cooktop surface.  Removable hot plates come standard and feature designated "hot zones" and functional "pot fenders" keeping cookware safely on the surface. With up to 55,000 BTU's, high burn output, large firebox capacity, convenient wood storage compartment and the reliability of a combined heating and cooking source, it's the perfect addition to your home, cottage or both!
Up to 55,000 BTU's       29 ⅜"w  x  38 13/16"h  x  23 3/16"d      EPA Certified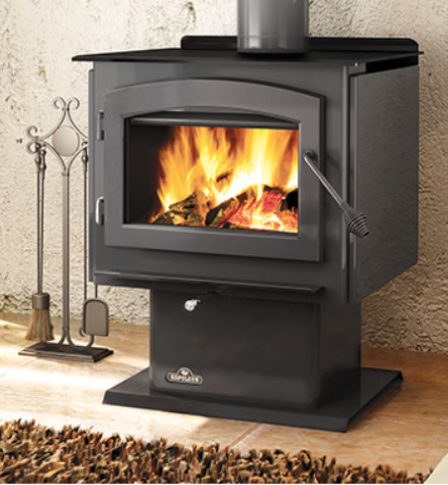 Independence (1150p) – Heats up to 2,000 sq. ft
NapoleonⓇ is proud to offer the world renowned quality of their clean burning wood technology at an economical price.  The Independence™ EPA wood burning stove provides the best value for your money – the same clean burning and efficient NapoleonⓇ EPA technology, reliability and performance but in a "dressed down" version that includes the pedestal base and metallic black cast iron door making it ready for installation!  The non-catalytic high tech design eliminates the need for a delicate ceramic catalytic combustor, which can deteriorate over time. Take control of your independence from the utility companies and save money heating your home!

Up to 70,000 BTU's         25 ½"w x 33 ¼"h x 27"d        EPA Certified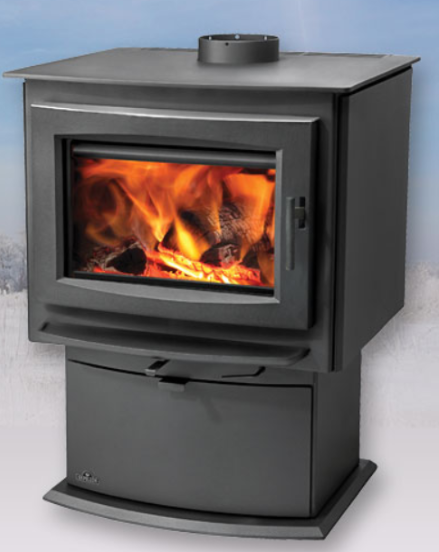 S-Series  (S1,S4 & S9) – Heats up to 3,500+ sq. ft
The S-Series are EPA approved wood burning stoves that come complete with a modern cast iron door and pedestal base in a metallic charcoal finish.  The S-Series feature a kitchen style "Easy Glide" pull out ash drawer with a removable ash pan and lid. The "Secure Lock" lever action door handle (with a removable handle shield) remains in a convenient up position when the door is open, making cleaning and refueling safe and easy.  The S-Series is the perfect solution for those wanting wood burning technology with a clean, contemporary look.

S1  – Up to 55,000 BTU's        25 ½"w x 32"h x 22"d           EPA Certified
S4  – Up to 70,000 BTU's       25 ½"w x 32"h x 26 ½"d      EPA Certified
S9  – Up to 85,000 BTU's       25 ½"w x 32"h x 31 ¼"d       EPA Certified
Other choices are available.
Call our experts today at 412-751-5525!