Durable, High quality wood burning inserts
Napoleon Wood Burning Inserts that last
Napoleon Wood Fireplace Inserts are considered the workhorses in the industry, performing dependably year after year, giving you the energy efficiency you need to heat your home. With Napoleon's Vortex™ advanced wood burning technology, an extraordinary clean burn is achieved.
Efficient, Napoleon EPA Technology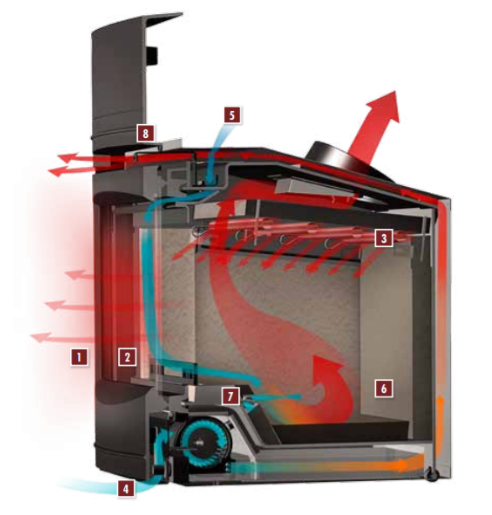 Radiant Heat

High heat ceramic glass provides a safe, unobstructed view of the fire

Heavy duty secondary air tubes introduce just the right amount of air to increase efficiency through complete combustion (specific for the EPI3C, EPI3T & EPI3TN)

Cool room air is circulated around the firebox with help from circulation blower, heated and returned to the room

Combustion air is brought into the unit through the fresh air intake collar located on the top left outer shell

Combustion takes place inside the firebox, smoke and gases are moved around a baffle system into a second chamber for complete combustion and extended flame path and exhaust out the chimney

Primary "bottom air feed" assists in cold start ups and to revive a small, dying fire

A single air control regulates the burn rate
Napoleon Wood Burning Inserts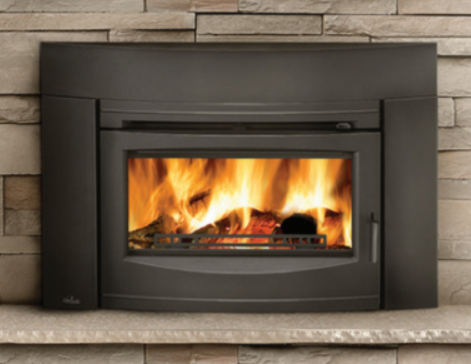 Contemporary Flush Front (EPI3c/EPI3t) – Heats up to 1,500 sq. ft
Fine, solid European cast iron design and Napoleon's advanced wood burning technology transform small amounts of wood into large amounts of cozy heat, easily sustaining overnight burns.  The EPA certified 1600C is available in porcelain enamel Majolica brown or painted black finishes. The 1600C features elegantly arched Early American double doors that open fully, almost flush to the sides with concealed hinges for easy loading and is convertible from top to rear vent for installation flexibility.  A beautiful investment for any room!
EPI3c       Up to 52,000 BTU's       42 ½"w w 29 ½"h      EPA Certified
EPI3T      Up to 55,000 BTU's       42 ½"w x 28 ½"h       EPA Certified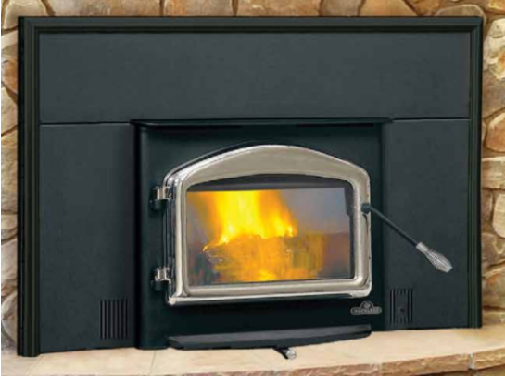 Wood Burning Insert (1101) – Heats up to 1,600 sq. ft
The 1101 wood burning insert won a prestigious industry award for its unique design, which allows for flush mount or hearth mount installation, in either a masonry or factory built fireplace.  Featuring an elegantly designed, full view single door, standard WHISPER QUIET™ heat circulating blower & thermostatic sensor, this innovative design transforms small amounts of wood into large amounts of cozy heat.  Customize your 1101 insert with an optional cast iron surround kit that will enhance your décor.
Up to 55,000 BTU's       44 ½"w x 31 ¼"h      EPA Certified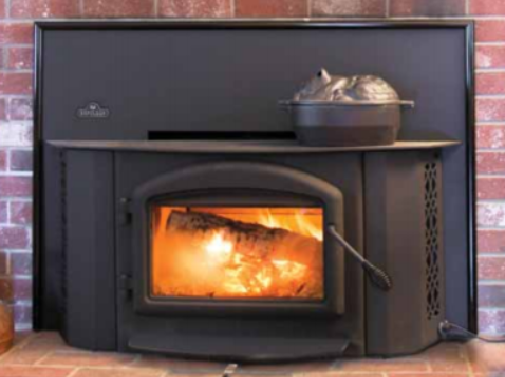 Wood Burning Insert (1402) – Heats up to 2,000 sq. ft
What do you do with your existing inefficient masonry fireplace?  Retrofit with an efficient NapoleonⓇ wood burning insert! Through easy operation, you achieve clean burning fires, radiating luxurious heat with a minimal amount of work and wood.  Designed to be the perfect fit, this stylish insert will bring you years of satisfaction and of course… the beauty of a natural roaring fire with incomparable efficiencies! The deluxe 1402 wood burning insert comes complete with surround and trim, plus two powerful heat circulating 100 CFM blowers.
Up to 55,000 BTU's       29 ⅜"w  x  38 13/16"h  x  23 3/16"d      EPA Certified
Other choices are available.
Call our experts today at 412-751-5525!